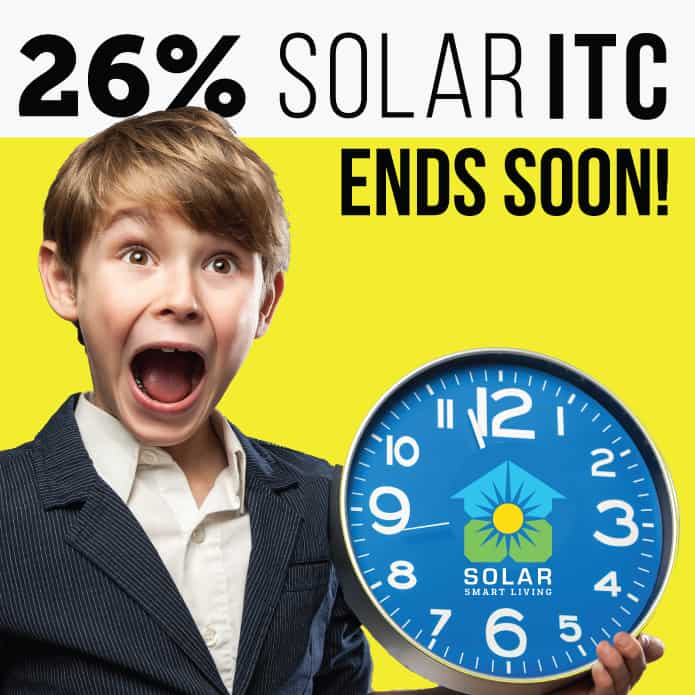 As we inch nearer to the fourth quarter of the year, we want to remind you that the Federal tax credit step-down is around the corner. If you are thinking about going solar but have not committed to moving forward, you may want to consider the cost of indecision.
Right now it is 26% but that goes down after Dec 31st
For 2020, we are eligible for a tax credit equal to 26% of the purchase price of a solar energy system. This includes the cost for battery storage if it is installed with a qualified solar anergy system.
This amount goes down to 22% at the end of this year. At the end of 2021, it is reduced further to 0% for residential solar and 10% for commercial solar. Currently, there are no plans by congress to extend or improve the tax credit or other tax incentives toward installing solar energy systems.
The time available to go solar is shorter than you think
Although the deadline for qualifying for the 26% ITC is December 31st, 2020, the deadline for starting the process may be sooner than you think. Many solar installers are already seeing a backlog of the supply of panels and other equipment due to the COVID Pandemic. Compound those challenges with the impending rush to get installed by the end of the year in order to qualify for the tax credit in 2020. Waiting lessens your ability to take advantage of these incentives. People interested in going solar need to act now!
Most solar installers need 2-3 months
The estimated time for most solar installers to get your system up on your roof, carport or ground-mount and operational is usually 2-3 months. This is the time from when you first sign your solar contract to having your system turned on by the electric utility. This period allows for the completion of a formal design (one-line diagram), filing the permits and then finally receiving approval to install your system from the local electric utility.
Once the system is installed, your solar installer requests the proper inspections from the local authorities having jurisdiction or "AHJ" (eg. City, County and Utility). After those are completed and "PASSED" and your new meters (Net Energy Meter, REC meters, etc) are installed by the electric utility, your system is activated and your system is then producing clean energy for your home.
Unexpected delays can happen
Although it is possible that the installation process could be less, that 2-3 months is more the norm. With that said, unexpected delays can happen. These could include but are not limited to:
Supply delays
Process delays
Inspection delays due to heavy workloads for the AHJ and the electric utility
Lender delays
Vacations
And more…
So..if you are thinking about going solar
If you have been on the fence about going solar and are more than a bit interested, you may want to get off that teeter-totter and get busy. In many cases, if you have not signed a contract with your solar installer by October 1st, 2020, there is a good chance you may not be installed and turned on by the end of the year and will miss out on the Federal ITC. If you live in New Mexico, you could even miss out on the State 10% Tax Credit. That is a lot of money you could be eligible for and be leaving on the table.
Learn more about your potential tax credits on our Finance Page.
Call us and set an appointment
If you are not currently working with someone give us a call. If you are looking at quotes with other companies, give us a call too. It will not hurt to get one more quote for comparison purposes. Besides, we have been installing solar and servicing solar customers here in Southern NM and West Texas since 2007. That's longer than anyone here. We have a great track record and excellent reviews. Check us out on the Better Business Bureau and Google for reviews and compare ours to everyone else you are getting quotes from. The differences will surprise you.
Contact us now for a quote or fill in the satellite ballpark quote form on the right of this article. If you are an existing Solar Smart Living customer and you have friends or family members that have been thinking about going solar, refer them over and help them get started.
Use our new Solar Smart Living App to submit your referrals. Using the app ensures you get credit for referrals and you get paid faster. Go to the Solar Smart Living App Page and sign up as a Solar Smart Living Advocate. You can download the app for both Android and iPhone devices.